It is possible you may have considered caring for seniors and working in a senior living community is appealing to you. But, how do you get there? There are a few professional requirements you should look into before applying for the position that will along with your passion for helping others.
The Many Benefits of Caregiving
Jumping into the world of caregiving takes serious passion and a caring personality. Working in a senior living community is so fulfilling for the heart and mind.
When you care for seniors, you are giving back to society in a huge way. And, you join a team of like-minded individuals, who are just as caring and passionate as you are. It feels great to be part of such a kindhearted team who are all part of the same goal: making a difference in the lives of our aging population.
There are so many reasons to start a career in caregiving:
The people you meet, coworkers and community members

Fulfilling your passion for compassion

Keeping your body and mind active

Giving back to society
Discovering the Requirements
There are several educational post-secondary programs you can take to prepare you for a life of caregiving in senior living communities, but there may be additional or alternate requirements that the specific communities are looking for when they are hiring.
To get an idea of what you need to do to prepare for a career in caregiving, one of the best places to start is by looking at current job openings at senior living communities near you.
This will give you a locally-focused view of the application requirements that are specific to your state or area.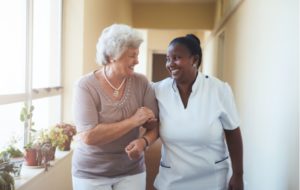 Types of Senior Living
The type of senior living community you want to apply to may determine a different set of skills required to effectively complete the work needed. For instance, job requirements in a memory care community will likely differ from those at independent or assisted living communities.
Memory care

may require you to have special certifications for working with community members who struggle with dementia,

Alzheimer's

,

Parkinson's

, or other cognitive issues.

Work at an

assisted living community

will likely involve assistance with bathing, grooming, and daily activities to ensure the community members are living their best lives.

Independent living communities

may require less hands-on work, but it can still be a demanding and fulfilling job!
Health & Safety
Depending on the full extent of the caregiving position you are applying for, the senior living community you choose may ask you for additional health and safety certificates and information. This could include things like a criminal record check, or a safe food handling certificate.
You should check with what is commonly required in your area and be ready to present proof of these certificates if needed.
Don't Get Discouraged
If becoming a caregiver seems like a lot to take on right now, don't get discouraged. There are plenty of other ways you can support seniors in their communities.
Most of all, senior living community members value someone who makes them feel happy and comfortable where they live. You can spread your passion and joy for caregiving in several ways, including planning activities, cooking, cleaning, helping out with administrative work, or repairing things and helping with maintenance as needed.
Stay Positive
Caregivers are a very happy-go-lucky type of people. If this sounds like you, we want you to join us!
If you have any questions about what requirements are necessary at the senior living community you want to work at, reach out to them. You can get a good feel for who they are when you speak over the phone or in person, too!
Many caregivers and administration staff will be happy to answer your questions and help guide you in the right direction. If you don't meet all of the requirements, you can always ask if they are able to help you obtain the necessary skills to become fully qualified.
Become a Part of Something Special
Senior Living Communities like The Villages of Murfreesboro wouldn't be able to operate without the support of qualified and compassionate individuals.
Several job positions exist in senior living communities, including:
Caregiving

Licensed Nursing

Administration

Activity & Event Planning

Chefs, Cooks, Kitchen, And Serving

Housekeeping Operations

Maintenance and Repairs

& More!
There are plenty of reasons to join the team! Have a look at the career opportunities we have available and jump into your career.