One aspect of motivating seniors to engage with other residents in a senior living community is to provide ample opportunity for social connections. But these connections are so much more important for seniors than simply getting them to engage with others in the community. There are actually some health benefits to social relationships that you may find interesting.
The unfortunate truth is that the opposite of these benefits are some not-so-good problems that arise when a senior begins feeling isolated. And unfortunately, this is not an uncommon issue. When looking for a senior living community, it's important the individual finds one that suits their social needs for long-term health and wellness.
What are Social Connections?
Simply put, a social connection is anything that brings two (or more) people together. This often includes feeling close to the people you're spending time with. And the result is typically feeling valued, loved, or cared for. These things are essential throughout our lives, but as we age, it becomes even more so.
Benefits of Social Connections
No single person benefits in every way from social connections because each person's social needs vary. However, here are some common benefits a senior may experience:
Reduced risk of experiencing depression.
More satisfaction and contentment with life.
Better mental and physical health.
Can assist with pain reduction.
Reduces the risk of dying from heart complications.
Reduces decline in cognitive function.
Types of Social Connections
One person's idea of a fun, uplifting social connection may not be the same as the next. So, it's a good thing that there are so many ways that seniors can stay socially connected:
Exercise: Not only will the group stay healthy physically together, but they can also enjoy each other's company for the mental health benefits.
Join in activities: Senior living communities will typically have a calendar full of group activities that will promote social connectedness. These could range from card nights to movie nights to anything else that brings the group together.
Volunteer: There's no better way to connect with people than by giving time and energy. Finding suitable volunteer opportunities and diving in is a great way to connect. Who knows, new friendships might even happen.
Take a class: Nothing says an aging adult should stop learning. On the contrary, continual learning can help prevent or reduce cognitive decline. Not only that, but it will give you a chance to socialize and spend time with other people.
Use technology: Technology can be a curse at times. However, if these last few years have shown us anything, it's that technology can also be a valuable tool in staying connected with each other.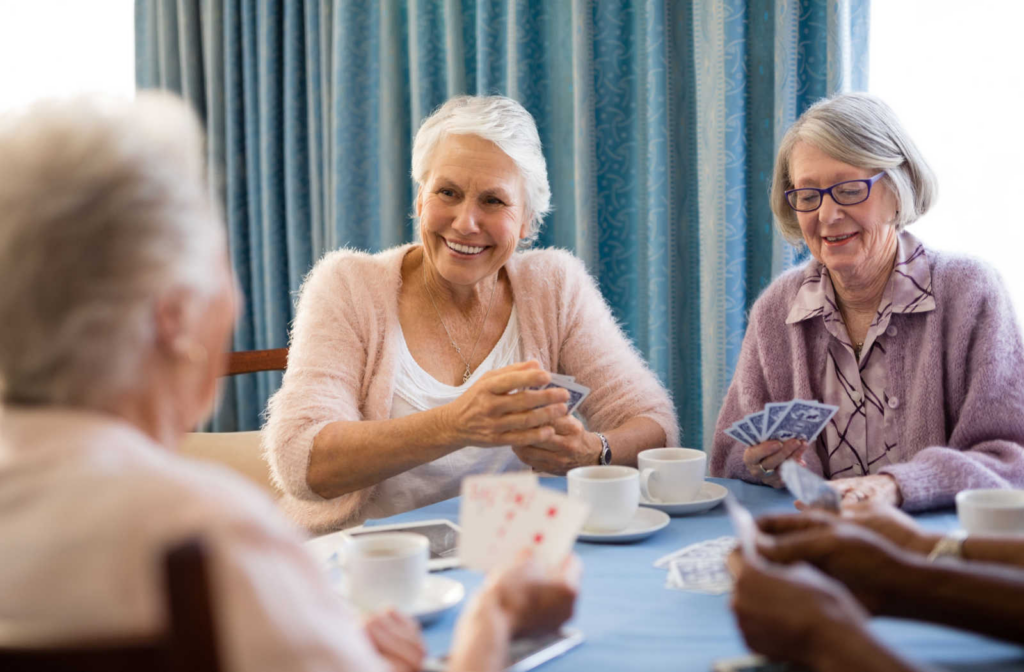 Encouraging Social Connections
Being an aging adult's caregiver can undoubtedly come with its challenges. However, you can definitely do some things to make it easier and healthier. One thing you can do is provide opportunities and encourage social connections.
Some ways that you can do this include:
Help get them out of the house or their room as often as possible.
Encourage them to join in planned group activities.
Sign them up (or show them how) for new things like classes or events.
Encourage family time with children and grandchildren.
Help them discover new things to do with other residents in the community.
Potential Problems in Senior Isolation
The list of problems that can arise when seniors do not get the social connections they need is a mile long to list everything. A study indicated that a senior's isolation or lack of social interaction could be the equivalent of smoking 15 cigarettes daily for their health.
Here are some of the more severe issues that an aging adult may experience:
Increased chances of severe depression and low sense of well-being.
More likely to succumb to age-related illnesses.
Lower quality of life.
Poor mental and physical health.
Increased need for support services.
Enter into an assisted living situation sooner.
Increased risk of dementia and Alzheimer's disease.
The problem with many of these experiences is that they can often paint a senior citizen in a bad light. Suppose someone doesn't take the time to understand why they're experiencing what they're experiencing. In that case, it becomes a vicious cycle that pushes an aging adult into their shell even more because they feel unvalued, unloved, and unwanted.
Social Connection in Murfreesboro
Deciding on a community to live in after retirement should not be taken lightly. Care must be taken in choosing a new home where health and wellness are the priority. This includes opportunities for being socially connected.Contact us today if you or a loved one are considering The Villages of Murfreesboro. The kind and compassionate staff are happy to book you a community tour. Then there is no guessing what you can expect from life at The Villages.