Informed Decision-Making
In the past, there were not many options available for senior living aside from nursing homes. It's a relief to know that nowadays, there are different levels of excellent care available in less clinical environments.
There are far more choices available for the older adults in our lives. The variety of options can seem overwhelming or confusing, but thankfully, support and information are readily available.
Choosing the correct level of care for ourselves and our loved ones can be a tremendous step. It's helpful to plan and have a good understanding of care needs before beginning the process.
If you are unsure of the level of care required, it can be beneficial to arrange for a senior needs assessment to help you decide. Having an idea of the required care needs will help significantly with your decision-making!
Main Types of Care
At The Villages of Murfreesboro, we offer three main levels of care for our residents:
Independent Living

Assisted Living
Memory Care
Independent Living
Independent living is for residents with a low level of care requirements. Different facilities may have different definitions of independence, but at The Villages of Murfreesboro, you are an excellent fit for independent living if you:
Want to maintain independence, while still enjoying the benefits of a community with older adults in a similar stage of life.

Prefer a more "hands-off" form of care.

Like to participate in wellness options, activities, socializing, and community events on your terms and schedule.

Can bathe, dress, move (with or without assistive devices), toilet, eat and take medications with minimal or no assistance.

Can act independently in an emergency situation.
Independent living residents have meals and housekeeping available in their suites, as well as access to all our incredible amenities, third-party medical services, our in-house pharmacy, and our nurse practitioner.
Assisted Living
Sometimes we need a little more support in our everyday lives. Assisted living is for our residents who require a higher level of care, and who made need assistance navigating regular daily activities, such as:
Taking medications

Getting dressed

Bathing

Cooking
There are higher and lower levels of assisted living care.
You may require a lower level of assisted care if you:
Can respond in an emergency

Can walk or move independently (Slowly and carefully is a-okay!)

Have some independence with taking medication

Do not require complex medical monitoring
Residents requiring higher levels of assisted care may need extra help with:
Responding in an emergency

Moving from one area to another

Bathing, dressing, and toileting

Successfully managing the day

Monitoring more complex medical conditions
Our assisted living residents benefit from personalized care, have access to scheduled meals, activities, and full use of all amenities The Villages of Murfreesboro has to offer.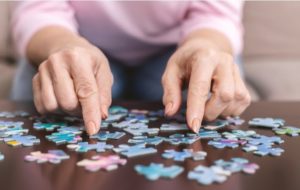 Memory Care
Many people diagnosed with Alzheimer's disease or dementia can thrive in assisted living in the early stages of the disease. Still, there may be a point when your loved one requires additional care and attention.
A memory care facility can provide more structure and round-the-clock care. Memory care is a safe place for older adults with Alzheimer's disease or advanced dementia. Here are a few signs that your loved one may benefit from memory care:
Your loved one is becoming unsafe in their current living situation.

Your loved one's health is at risk.

Your loved one's needs are beyond the capabilities of their present caregiver.

Your loved one requires more structure and social interaction.
Residents in memory care are provided with their own activities and routines to help maintain and improve cognitive functions. Activities can include:
Music:

Listening to music

can help to enhance memory, lower stress, and improve cognitive skills.

Puzzles and activities:

It's vital to have physical and mental stimulation tailored to every resident's abilities.

Arts & Crafts:

Having a creative outlet is essential, no matter the level of skill or cognitive ability.

Much, much more:

Life-enriching daily activities are a vital part of building and maintaining cognitive function.
At The Villages of Murfreesboro, we've designed The Maud Ferguson Memory Care neighborhood as a safe, comfortable and engaging environment for our residents with more unique care needs.
A Supportive Team of Experts
It can take time to sit back and assess your or your loved one's needs and determine the level of care required to ensure the best quality of life. Make sure to have the right conversations to understand the wants and needs of everyone involved.
If you've read through this information and still feel unsure about the right level of care for you or your family member, contact our team at The Villages of Murfreesboro. We are truly committed to our residents and their families, and can help you determine the next steps in your journey.
Determining the right level of care can be daunting, but we're here to help. We want to ensure that everyone experiences the right balance of care, living well, and enjoying life!