No technology can replace the love and care a senior can receive from compassionate caregivers in a retirement community. But technological advances with wearable technology can certainly help provide peace of mind and encourage an active and healthy lifestyle.
There isn't a single "best" health watch for seniors. Some notable watches one might consider are the MGMove, Medical SOS Watch, Apple Watch 8, and the Samsung Galaxy 5. Each has similar functionality with some slight differences.
We've compiled some of the key features of each, along with some things you or your loved one might consider when purchasing a health watch. We'll also briefly discuss their limitations. Please note that a smartwatch can't replace the advice or care of a professional.
Best Health Watches For Seniors
There is no shortage of smartwatch or health watch options on the market today. But even a tech-savvy senior might find wading through all the options overwhelming. We've included 4 popular choices to discuss.
Medical Guardian's MGMove
The MGMove could be a great option for an older adult who wants a discreet-looking watch that can provide all the essential information—time, step counting, and text message capabilities. But it also has a subscription service that provides 24/7 monitoring.
Should the senior ever need emergency assistance, they only have to press a single button to alert the Medical Guardian's monitoring service. Another neat feature is that loved ones or caregivers can set reminders and have them displayed on the watch.
Bay Alarm Medical SOS Watch
If a senior wants a more "minimalist-styled" watch, the Medical SOS Smartwatch could be a nice option. It's stylish but doesn't have a lot of tech-heavy features that some other watches have. But it still has all the information most people will want, including an easy-to-read display for time, date, and steps.
Just like the MGMove, the Medical SOS watch features an "SOS" button. And with its built-in GPS tracking, you can rest knowing your loved one is always within reach of emergency services, even when they're out and about.
Apple Watch 8
The Apple Watch 8 isn't specifically designed as a health or emergency watch like the above watches are. But that doesn't stop it from being a great option for the techy senior. The Apple Watch has an emergency button, just like other health watches.
But it also has some other great features like blood oxygen monitoring, heart monitoring, text messaging, and phone calls—all on the watch! Plus, it syncs seamlessly with other devices, such as a Macbook or iPhone, if the senior already uses those.
Samsung Galaxy Watch 5
We can't suggest a watch like the Apple Watch without mentioning their competition—Samsung. The Samsung Galaxy Watch 5 stands out for its simple yet high-tech features. This watch has 3 sensors: a bioelectrical impedance analysis sensor, an electrical heart sensor (ECG), and an optical heart rate sensor. These three sensors work together to give the wearer a good overall picture of health by tracking heart health, heart rate, and even tracking body mass and muscular weight. Then a senior can take the steps they need to achieve better health. Plus, it counts steps, monitors sleep quality, and can send the wearer's location to predetermined contacts.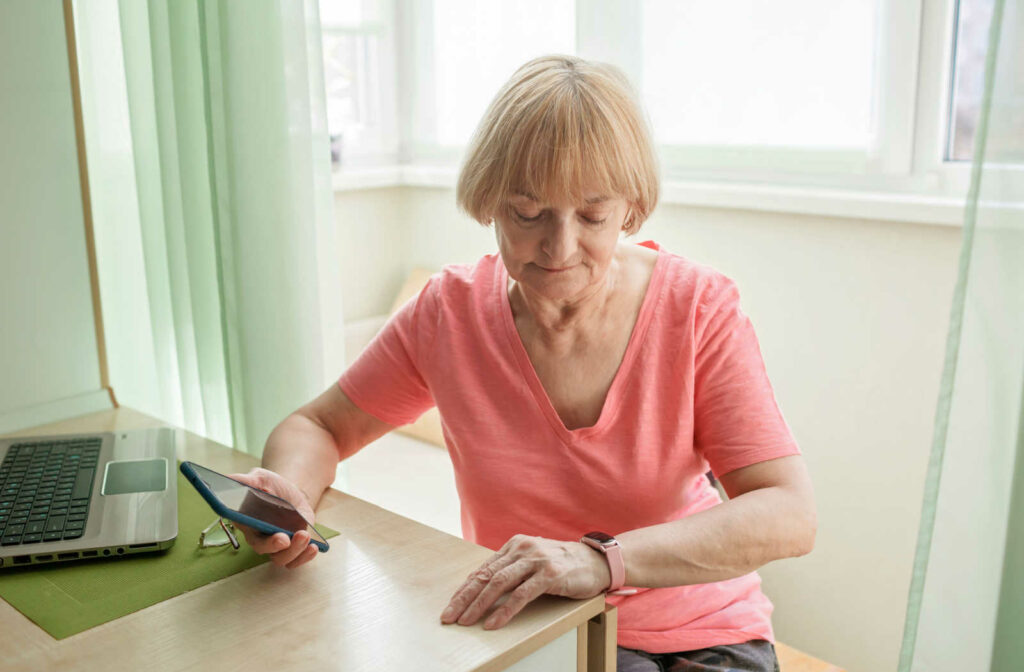 Limitations of a Health Watch
Although health watches and smartwatches can be huge benefits in a senior's life, it's important to understand that they have their limitations.
Inaccurate Data: Technology has come a long way, but developers can only have so much that fits on a wrist. So, the data isn't always 100% accurate. This may not be a huge problem if a senior is tracking steps or calories burned. But for something critical like heart rate monitoring, a senior shouldn't rely on the health watch alone.
Limited Battery Life: Some watches could last several days or more on a single charge, but this can vary widely by model and brand. And the time the watch needs to charge could leave the senior unprotected depending on their primary purpose in using a health watch.
Functionality & Smartphone Reliance: Not all watches rely on a connection to a smartphone—the Medical SOS watch, for example, does not—but many do. So, their watches choices may be limited unless a senior also utilizes a smartphone. Also, functionality differs between models. The features a senior finds important could also dictate the available watches.
Cost: It's possible to find good deals and affordable health watches. But many of them have subscription-based services for some functionality. For example, the first 2 watches we reviewed have subscription-based services to access some of the most important safety features of the watch. So, it's important to consider the cost when deciding on the best health watch.
Retire with Confidence
Wearable tech can provide a great way to keep seniors active and healthy while giving their loved ones and caregivers the peace of mind of knowing they can access help when they need it. But there is no replacement for the person-to-person care a senior receives in an independent or assisted living senior community.
If you or a loved one are considering retirement in the Murfreesboro area, give us a call at The Villages of Murfreesboro. Our compassionate team can answer any questions you have about the community and book you a tour so you can see it for yourself.