Sometimes getting older means losing the community we grew up with. Neighbours move away, friends go in different directions, and retirement means leaving your work community. But getting older also offers an opportunity for new opportunities and a new community.
Independent living communities are residential networks that allow residents complete freedoms to come and go whenever they want. Daily life is unique for everybody, just like it is any condo building or apartment complex.
But how does life differ from living alone? There are lots of perks of an independent living community that benefit seniors. Let's discuss what life is like in senior living apartments. If you or a loved one is interested in touring The Villages Independent Living Community, please contact our team for an appointment.
What is Independent Living?
To put it most simply, an independent living community is a residential space specially designed for seniors. As the name implies, residents are independent. Community members are always able to move about freely and leave when they want to. Most members are over the age of 55.
Not to be confused with assisted living or memory care, independent living describes a lifestyle without supervision or personal assistance. Residents in The Village's independent living suites do not receive medical care or attention unless specially requested.
You may have heard an independent living community also referred to as:
Senior living community

Retirement homes

Retirement community

Senior co-housing

Active senior living
The Best of Both Worlds
Independent living communities are for people with a sound body and mind who prefer a social environment with like-minded people. What makes this living style so appealing for independent seniors is the combination of freedom and community.
Residents can expect to live freely without interruptions from staff or caregivers. But all the resources tailored to a retirement lifestyle are available. Independent co-housing combines a regular living routine without the responsibilities of yard work, meal preparation, and networking.
A Day in the Life at The Villages
When you join our community, you can still be you! All of our residents have their unique specific schedules and routines, but the benefits are available to everyone. Social experiences are right at your fingertips and if you need a helping hand, there is always 24-hour staff available.
One basic principle to remember is that many services and amenities are offered, but they are never required. Unlike a memory care resident who has assistance needs, independent living community members can live life exactly as they see fit.
Your Suite, Your Schedule
You'll have your own living space that belongs to you! Independent Living Suites vary in size and layout and all of them are a bit different to match the personalities of our residents. Your suite is just like an apartment anywhere else, you live privately and independently in your own home.
Being a member of the community means that you come and go as you please, participate in group activities when you like, and enjoy quiet time at any moment. There are two-bedroom suites as well! So whether it's a shared accommodation or you'd like some space for when your family visits, it's important to find a home that best fits your lifestyle.
Suites are designed with accessibility and mobility in mind, and many units include sunrooms and patios. So regardless of your physical abilities or potential health concerns, Independent Living Suites in The Villages are designed to make life easy and comfortable.
An Abundance of Activities
At an active adult living community, you'll never get bored! There's a wide range of activities available on demand. From games rooms to fitness centers, there are activities for everyone. What you participate in is simply dependent on your comfort levels.
Staying active in the Murfreesboro community outside of The Villages is also convenient. You might be interested in a group outing to explore the region or a volunteer experience elsewhere. And there are always friendly visitors who come to share our community lifestyle.
Some of the services and activities you can expect to find on-site are:
Fully Equipped Fitness Center

Spa & Wellness Center

Games Room

Arts & Crafts

Club Room with Billiards

Putting Green

Garden Cafe

Community Room

On-Site Pharmacy

Worship Services
The health benefits associated with daily interaction with others are well-documented. Sometimes the isolation of living completely alone can be overwhelming. Our goal at The Villages of Murfreesboro is to keep you healthy and happy as you age. And when your family and friends come for a visit, they're encouraged to join in all the fun.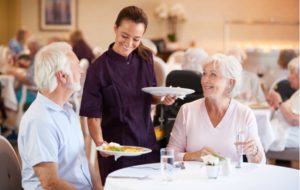 Fine Dining, Social Setting
Isn't it nice to have someone cook for you? Well, life in an independent living community includes chef-prepared gourmet meals 3 times a day. The menu is fresh, healthy, and always changing to keep your diet interesting and your body full of energy.
Diet plays a big role in our overall health, especially as we enter middle age and beyond. The meals in our co-housing environment are prepared thoughtfully with an emphasis on nutritional balance. Let's not forget they're always delicious!
And you get to enjoy dinner with your friends — every day if you like! Mealtimes occur in a social setting and allow you to catch up with your peers in a safe, comfortable environment. And by all means, if you prefer to fill up in your personal suite, go for it!
A Peek into Daily Life
There are so many ways you can spend your days and weeks in a community that is custom-made for retirement. But many residents might enjoy a typical schedule close to this:
Morning

: Wake up and prepare yourself for the day. Enjoy a delicious breakfast with full service. Go for a morning walk around the neighbourhood.

Afternoon

: Work on your putting stroke, relax and read, or sip a fresh coffee in the garden. Hit the fitness center for some valuable exercise. Sit down for a healthy, serviced lunch. Have an afternoon nap (or not!).

Evening

: Catch your favourite series on TV and take care of some things at home. Head to a chef-inspired seated dinner with friends. Have some laughs and an after-dinner drink in the Club Room.

NIghttime

: Head back to your suite and relax. Prepare for the next day and sleep easy knowing there is 24-hour service whenever you need it.
Freedom, Comfort, Community
Life in an independent living community is all about just that — independence. Your routine can be as close as you want to your life before joining our living space. But what you have added to your lifestyle is a full range of activities, services, and amenities catered to seniors and retirees.
Active adult communities are perfect for somebody who feels like their social life is slipping away. The Villages of Murfreesboro is a community that provides unlimited comforts, with the access and convenience of a community that wants to experience the world just as you do.
Get in touch with our friendly staff and come for a visit, to see if an independent living community makes you feel at home.