The Villages of Murfreesboro believes that our country's seniors deserve to grow older with dignity, honor, and respect. Sadly, research shows that many of our nation's elders are abused and neglected.
Safeguarding is a popular term in the United Kingdom that describes the necessary measures needed to protect an individuals' health, well-being, and human rights, ensuring that vulnerable people — children and adults — can leave freely from harm, abuse, and neglect.
The elderly are a vulnerable group who deserve protection and appropriate care. Our senior living community is committed to safeguarding and promoting a higher quality of life for all residents.
Our memory care and independent living residents are protected by safeguarding policies, and a team of experienced and compassionate staff who care deeply about each resident.
Defining Safeguarding
The United Kingdom's Care Act of 2014 defines safeguarding as "protecting an adult's right to live in safety, free from abuse and neglect."
When safeguarding the elderly, caregivers should consider these 6 principles:
Empowerment:

Providing support, opportunities for informed consent, and encouraging residents to make their own choices.
Prevention:

Being proactive, and taking action before any harm occurs.
Proportionality:

Taking a less invasive approach to the presented risks.
Protection:

Providing representation and support for those in need.
Partnership:

Finding solutions within the community, and working together to prevent, detect, and report instances of neglect and abuse.
Accountability:

Being transparent, and taking ownership of safeguarding practices within the community.
Why is Safeguarding Important?
The elderly may be at-risk and vulnerable, especially when a caregiver can control their daily lives, leading to a misuse of power. Safeguarding helps ensure that our loved ones in senior living communities are protected from abuse and neglect.
High-quality senior living communities should have strong safeguarding policies to protect their residents. Policies should outline the rights of seniors in their care, the possible risks, and exactly how the facility ensures the safety and well-being of its residents.
A few examples of possible risks to the elderly in a senior living community include:
Injuries from equipment, like beds and lifts

The potential for falls

Medication mismanagement

The spread of infections or other diseases

Injuries from aggressive or challenging behaviors
An appropriate safeguarding policy can help guide staff when presented with decisions about how to properly care for the welfare of a community member, ensuring consistency of care.
Safeguarding policies should include details on how a community protects its residents, like:
Safeguarding measures

Appropriate staff training

Medication reviews

Nutrition and wellness checks

Safety checks and precautions
Ultimately, care providers want their residents to live happy and healthy lives, and safeguarding policies help ensure this outcome.
Safeguarding & Memory Loss
People with Alzheimer's disease or dementia are particularly at risk of harm and neglect, and can benefit from safeguarding. Memory loss can result in:
Issues with concentration

Issues with planning and organizing

Difficulties with making decisions and problem solving

Difficulties communicating

Loss of orientation
All of the above symptoms create additional vulnerability, making it more challenging to protect themselves from abuse.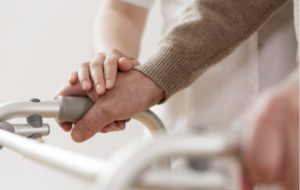 What is Elder Abuse?
Elder abuse occurs when someone causes an older adult harm or distress. Abuse takes many forms, and it's not always physical— ranging from disrespect to causing physical or mental harm, and it can happen anywhere; at home, in a community, the hospital, or in public.
People who commit elder abuse may be taking advantage of a relationship, or their position of power. In other cases, the abuse is unintentional, but occurs due to a lack of skills or support. Abusers can be:
A paid caregiver

A volunteer caregiver

A health worker

A social worker

Friends

Relatives

Neighbors

Other residents of a care facility
What Are The Signs of Elder Abuse?
It isn't always easy to detect signs of elder abuse, but some symptoms can include:
Sudden behavioral changes

Unexplained injuries or bruises

Weight loss

Uninterested in meals or snacks

Low self-esteem

Changes to appearance

Personal items missing or lost

Financial issues or suspicious transactions in accounts
If you notice any of these signs in your elderly loved ones, report them immediately to their senior living community's staff or the authorities.
Management and staff of a senior living community are trained to safeguard residents, and are responsible for recording, reporting, and resolving any instances of harm in their facilities.
How Can I Safeguard My Elderly Loved Ones?
Families and caregivers can help their loved ones by staying involved in their daily lives, raising any concerns immediately, and watching closely for changes in behavior, appearance, or well-being.
If you are worried about a senior and how they're being treated, it's essential to share your concerns and advocate on their behalf. Safeguarding the elderly means ensuring the proper supports are in place for their continued care and happiness.
Contact The Villages of Murfreesboro if you have questions about safeguarding and elderly care, or would like to discuss better care options for the older adults in your life. We can help!